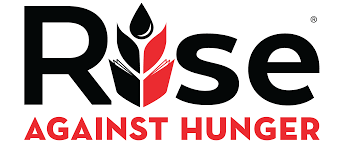 September 10
Let's All Rise!
Against hunger, that is. Rise Against Hunger will be at the Advent at 9:00 am on Sunday, September 10. This is an intergenerational event and we need at least 100 participants. The goal is to pack 10,000 meals in an hour.
Here's how it works. Use the link below to register yourself and your family to participate. We hope you will commit to paying at least $10 per person for the event. That's the cost of a meal at church – only this time you will be giving the meal away. We will gather in the gym that morning, don hairnets, and get busy assembling bags of meals under the direction of a Rise Against Hunger staff person. Meals will be packaged and sent to those desperately in need.
This event is being sponsored by the Seekers Class, but we need and want EVERYONE to come and participate – there's a job for each and every person. You will have the satisfaction of working with your fellow parishioners (and we are going to invite residents of the Fitzgerald) to really make a difference in lives across the globe. Plus, it's fun and a great way to begin our program year.
We need your participation and your contribution. The cost of this special event is $4,000. That's 40 cents a meal. Please help us reach – and exceed – our goal.
For more information, check out the website www.riseagainsthunger.org. 
The link to register and donate is here:  http://events.riseagainsthunger.org/churchoftheadvent2023